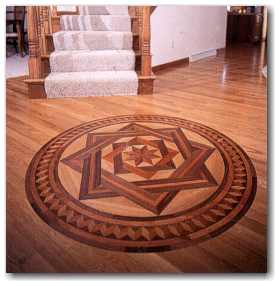 Unlike most floor coverings, wood floors are a long-term investment that, correctly maintained, will last the lifetime of the home. Fortunately for consumers, today's wood floors offer a wide spectrum of product options that are easy to maintain. Unlike past times, when people had to get down on their knees to buff their wax floors, taking care of wood floors today requires little effort. The routine maintenance involves protecting the finish from scratches and moisture. If you can avoid both of these things, you've got a handle on most of your wood floor care.
Caring for your wood floor involves both preventive (throw rugs, floor protectors) and routine (proper wood floor cleaners) maintenance.
At Blesing's Hardwood Floors we pride ourselves in not only installing and repairing your wood floors, but also in assisting you in understanding the steps to take to keep your floors in top shape. Maintenance of your floor need not be an overwhelming endeavor. Just a few simple preventive & routine steps will keep your floors looking great. Just think .. if you had a major event at your house, you'd naturally think to give your floor a good cleaning after the event is over. This is good, but it's just as, or more important to clean the floor before the event to minimize the chance of scratching or other damage due to the increased traffic on the floor.
To learn more about hardwood floor maintenance click here to download our
"Caring for your Hardwood Floor" document in pdf format.