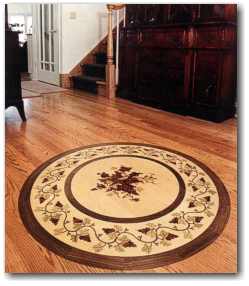 Custom inlays, (borders and medallions) can add interest and beauty to foyers, stair landings, hallways, dining areas or great rooms. The right medallion can also be a spectacular focal point when placed in front of a fireplace or in an archway as a transition between rooms.
At Blesing's Hardwood Floors, we specialize in custom designs, whether as an addition to an existing floor, or as part of a new installation. We use the finest borders and medallions from suppliers such as:


Use the links above to see samples of these distinctive borders and medallions, then give us a call, or click the "Contact Us" button. We'll get back to you with helpful hints and provide a free estimate for the floor that you desire.